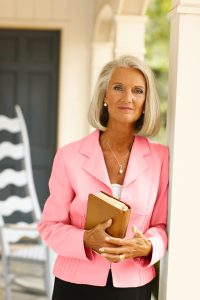 Hear Anne's Talk – click time stamps in Program | 2021 Prayer Breakfast: Click Here
On Nov. 19, 2020, we heard from Anne Graham Lotz. Anne was born and reared in Montreat, North Carolina, the second daughter of Billy and Ruth Graham. She is the mother of three children and three grandchildren.
From 1976-1988, Anne taught Bible Study Fellowship, a weekly Bible study class in Raleigh, NC of over 500 women. Her original class multiplied until today there are nine other classes of similar size in Raleigh.
In 1988, Anne established AnGeL Ministries, a non-profit corporation, which seeks to give out messages of Biblical exposition through her speaking, tapes and books. Four of her books – The Vision of His Glory, God's Story, Just Give Me Jesus and My Heart's Cry – have received the Gold Medallion Award. She has also published Heaven: My Father's House; Daily Light; two Daily Light Journals; Just Give Me Jesus Journal; Why?: Trusting God When You Don't Understand; The Joy of My Heart; My Jesus Is…Everything; Life Is Just Better with Jesus, The Magnificent Obsession; Fixing My Eyes on Jesus; Heaven: God's Promise for Me; Expecting to See Jesus; Wounded by God's People; The Daniel Prayer, The Daniel Key, Storming the Gates of Heaven, and her latest release, Jesus in Me. Anne's messages have reached people around the world through daily radio spots — Daily Light for Daily Living – and her weekly radio program – Living in the Light – which are carried by almost 1000 radio outlets.
From 2000 – 2012, Anne held Just Give Me Jesus revivals, life-changing events in arenas in over thirty cities around the world, including Seoul, South Korea; London, England; Cardiff, Wales; San Juan, Puerto Rico; Asuncion, Paraguay; Kiev, Ukraine; Panama City, Panama; Toronto, Canada; Oslo, Norway; Manila, Philippines and Chisinau, Moldova. Subsequent to this, her presence through social media has escalated through her website, and is one of the main emphases of her current ministry.
Anne has broken many glass ceilings. She was the only woman to be a plenary speaker at the International Congress of Itinerant Evangelists in Amsterdam in 1983, 1986 and 2000 and at the School of Evangelism in Moscow in 1991. She has been the featured speaker at conferences, seminaries, churches and universities on every continent of the world with the exception of Antarctica. Anne has received six honorary Doctorates. She presently serves on the Board of Directors for the Billy Graham Evangelistic Association, having previously served on the Board of the Evangelical Council of Financial Accountability, the Board of Trustees for Gordon-Conwell Theological Seminary and the Board of Regents for Baylor University.
She was the Honorary Chair of the National Day of Prayer in 2014, then was chosen by Shirley Dobson to succeed her as Chairman of the National Day of Prayer Task Force from 2016-2017.
Anne's aim is clear – to bring revival to the hearts of God's people. And her message is consistent – calling people to a personal relationship with God through His Word.