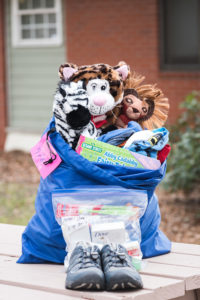 LOR has been providing clothing and necessities for Lowcountry children transitioning to foster care since 2003. In 2017, LOR's Distribution Center provided over 3,200 children with two-weeks-worth of clothing, shoes, coats, toiletries, books, stuffed animals and school supplies. LOR continues to grow this important work each year, with an emphasized effort to reach rural children in 2018.
In addition to the work in our Distribution Center, LOR holds quarterly children's events, providing social and recreational enrichment opportunities for hundreds of children in foster care. This summer we prepared for our annual Beach Day where we took up to 150 children out to Folly Beach for a day of sun and fun.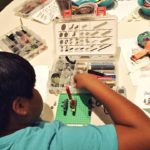 LOR also holds life skills classes and summer camps, aimed at preparing foster youth for success after foster care. LOR's Foster the Future program focuses on job/career readiness, academic and leadership skills, financial literacy and college preparation.
LOR's Foster the Future Summer Camp took place for three weeks in June, with 60 participants from local group homes and foster placements. The camp was a great success and we are already working hard to grow and improve the experience for children in care in 2019.
Below is a story of one young lady that LOR staff and volunteers had the pleasure of meeting…
Zoe is a 10-year old girl who participated in LOR's first week of Camp Foster the Future. She is currently living with a foster parent, while her twin brothers live in a group home. She has pig-tails, a warm smile, a quick wit and natural leadership. Although you can often find her rolling her eyes at the antics of her younger brothers, you can tell she is very glad that they are back together while at camp, even if it is just for a week.
Besides enjoying the company of her brothers, Zoe is taking advantage of everything else that camp has to offer. She is the first person to share after a reflective activity about emotions and another one on goal setting. She enthusiastically participates in the group collage at Redux Art Studio. She makes friends with the other girls in the group and jokes around with the Citadel camp counselors.
Through Camp Foster the Future, Zoe and the other 60 participants (age 9-18) are exposed to life skills lessons like conflict resolution, teamwork, healthy living and career development (and maybe a dance party here and there). Older participants will learn interview skills and resume writing, as well as money management, college planning (the FAFSA financial aid form is HARD!) and other skills for independent living. While being fun and interactive, the camp aims at preparing young people for a happy and healthy future.
The statistics are not in Zoe's favor…1 in 4 aged out foster children in SC become homeless or teen moms and 40% become incarcerated. One-third report no job by age 21, not even part-time. LOR's goal is to grow Camp Foster the Future until every Lowcountry child in foster care receives the life skills training needed to be a confident and resourceful adult. With support and mentorship, we know Zoe and her brothers will succeed in school and make a positive impact on the world.